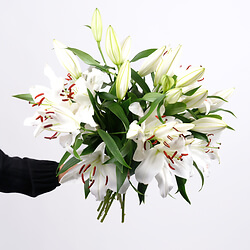 White lily
Available for delivery by Post Tomorrow
White lily
An unforgettable perfume !
We're sure you'll admire the majestic beauty of these deliciously fragrant flowers, assembled in a simple, elegant bouquet. We've selected this exceptional variety of lilies for their generous flowers and unique scent. A few stems will suffice to fill your home with their fragrance.

About: 7 stems (14 flowers) - bouquet pictures, Height: 55 cm
NB. To maximise their vase life, your lilies will be sent out closed so they can be enjoyed for as long as possible.
Available for delivery by Post Tomorrow